Here is a summary of

Our Story,

and how much we have grown from a simple weekend class on our principals porch
2015 - The Year It All Began
Iskul was first set up, taking advantage of little spaces in the headmistress' home or the town hall to conduct classes. Board of Trustees was formed with four initial members. Malaysian children on the island were interviewed to take on the role of Mastal Arikik, 'little teachers' who are given an allowance to teach their stateless peers, passing on the knowledge that they learn in school. One of the Mastal Arikik (MA) was the son of our headmistress! The Malaysian and stateless children have little chance to mingle so this opportunity helps to bridge the gap. Classes were held for two hours, on Saturdays and Sundays,when the MA were not in school themselves. Iskul teaches classes on reading and writing in Malay, as well as mathematics and art. Students of different ages were combined in a single class. A school song was created, and gotong-royong activities were held after classes on Sundays. One of our MA, Khairul was nominated as one of Young ChangeMakers 2015 by UNICEF.
2016 - Going Strong
Your content goes here. Edit or remove this text inline or in the module Content settings. You can also style every aspect of this content in the module Design settings and even apply custom CSS to this text in the module Advanced settings.
2017 - Going Strong
Iskul's held its first two-day Strategic Planning workshop among the Board of Trustees, who henceforth were officially revised to be known as Iskul Team.  Three new MA joined our team,and a teaching camp was held for them. Our first Financial Summary was shared with donors, and fundraising campaigns were held to raise funds for a Field coordinators allowance, and to provide meals for students. Iskul participated and shared experiences at the UNCHR Roundtable on Methodology for Bajau Laut Consultation in Sandakan. Construction began on our own school building, made possible by a grant from Mah Sing foundation.
2018 - A New Beginning
As we now had our own space for conducting lessons, we split the students into classes, increasing the time they spend at school. Iskul serves between 10-30 students at any time, and so a designated school building was immensely helpful to creating a conducive environment. Students now learned in several different classes of age groups. We developed a mentorship program, allowing older students to help the younger with their work after the classes. The second Strategic Planning Meeting and Iskul's first AGM was held in Kuala Lumpur, and the students sat for a year-end examination for the first time.
2019 - Hopeful Tidings
Although the mentorship program of the previous year did not prove to be sustainable, two students who served as mentors went on to become Mastal Arikik themselves. The Jabatan Pendidikan Semporna visited Iskul after finding out about the initiative and looked forward for possible collaboration. 15 new students joined us, and one of our pioneer MA stepped up to be our field coordinator. More than 50 enthusiastic children in Iskul's Malaysia Day & Hari Sukan celebration.
2020 - Big Things happened
In a conversation with the Deputy Minister of Education, YB Teo Nie Ching, Iskul highlighted the plight of the stateless children of Omadal Island. With the addition of our first full time teacher, Cikgu Jefry, classes expanded from a two hour weekend event, to daily lessons, from 8am to 11pm. Iskul engaged a full time teacher; a university graduate to head lessons. We continue to teach Bahasa Malaysia and Mathematics, with three levels to the syllabus; each teaching more advanced concepts than the last. Classes expanded to include culture and performance arts – an effort to develop the children's socio-cultural identity. Iskul had a brief meeting with Dr Hamid from IPG Tawau who is interested in creating a customised syllabus for the stateless Bajau Laut community. In July 2020 the Yayasan Hasanah Special Grant served as a lifeline to our operations. Covid 19 relief efforts were an important initiative to help our students' families stay on their feet during trying times. Since 2015, 10 Mastal Arikik have taught over 50 students,and 18 have graduated. Majlis Konvokesyen Pelajar & Penghargaan Mastal Arikik 2020 was held for the first time to celebrate 18 students enrolled since 2015/2016 and have completed basic literacy lessons from Iskul as well as to acknowledge the effort invested by MAs over the years.
2021 - A Shift In Focus
As classes were not able to be conducted as regularly due to the MCO, Iskul concentrated our efforts on providing food baskets and aid to the residents of Omadal. Food baskets were delivered to 150 stateless households. The community was encouraged to practice isolation in an attempt to keep them safe. Health initiatives included Vitamin C supplements distributed to keep immune systems up. There were also efforts to get the community tested for the virus. Rural communities were in an extremely dire predicament during this period of time, and external aid was one of the only ways for them to obtain food and resources that were not naturally available on their own island.
2022 - A Proud Comeback
Classes are conducted for an extra hour every day; with children learning from 8am to 12pm every weekday. Two new modules were added to our curriculum; life sciences and marine stewardship modules, to teach the students about the science behind their daily lives and cultures. Besides this, our pilot waste management project introduces safer options for waste management on the island and makes it possible for residents to facilitate conservation efforts for their island. The UNDP Small Grants Project funded the launch of these modules; a step towards integrating local traditional knowledge from the seafaring community, with collaboration between the Bajau Laut and a marine expert. A collaboration with University Putra Malaysia taught students how to grow hydroponic plants, starting Iskuls garden known as 'Kebun Atas Air.' 10 stateless and Malaysian youth from Omadal were trained to harness the use of media to advocate for themselves. They produce videos on a regular basis to voice their concerns on the issues they face; Covid-19 glue-sniffing exposure, marine pollution and waste management problems. We ended the year on a high note, winning the Star Golden Heart Awards, and the Gamuda Inspiration Awards, which provided us with a grant that would refurbish our school, and finance the setting up our Iskul Mini Clinic.
2023 - Gearing Up
Pondok Iskul has undergone renovations for the safety and comfort of students. We train 6 youth alongside our 4 staff members to create content through filmmaking projects, allowing them to tell their stories with their own voices. Younger students are on track to becoming Mastal Arikik themselves, and virtual classes allow them to learn English with volunteers. We also began our human rights modules for the students,teaching what statelessness means, a collaboration with the Institute on Statelessness and Inclusion (ISI)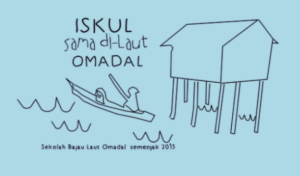 Iskul Sama diLaut Omadal is a non-profit organisation that stands for providing opportunities to children with their best interests at heart, and respect for the age-old cultures of local communities.