As Covid-19 cases is Sabah saw an all time high, the spread of the disease on Omadal became an even bigger threat. The community was encouraged to practice isolation in an attempt to keep them safe. Food baskets were sent to households to help tide them over, and vitamin C supplements were distributed to keep immune systems up. Cramped living quarters with little resources, and lack of access to healthcare in case of infection made these initiatives extremely important.
A visit from PKD and Imaret included Covid-19 testing for students and Iskul team members.
Being based in the island, we saw how the stateless community struggled for food during the Covid-19 MCO in April 2021. When we realised that no food aid was available to them we kick-started our own food relief effort. We fundraised RM23,430 within 3 days to help supply food aid to 150 stateless families. F&N Malaysia sponsored one carton of drinking water for each household. We received approval from the Semporna District Officer, Tn Benedict Asmat, to deliver food baskets to Omadal. We also registered with the Department of Social Welfare Malaysia. This allowed us to carry out bulk purchases and delivery of supplies from town. We distributed 1 food basket to each family in 4 weeks, during which we conducted a simple census and a mapping of the stateless population in Omadal. The relief aid and census helped us understand the community's demographic, needs and socio-economic conditions better. This experience has guided Iskul's programming in the following months. We found that their needs were water, help with basic hygiene and nutrition for young children. The remainder of the funds were used to supplement the community water project.
After consulting both stateless and Malaysian citizen communities, we provided further food aid to 167 stateless and 54 citizen households in Omadal in the form of 5 food baskets, drinking water (provided by F&N Malaysia and K2 Life Water) and vitamin C. We did this with the help of the Yayasan Hasanah's Humanitarian and Disaster Relief (HDR) fund (RM52,541) and private donors (RM12,600). The food basket distribution also became an incentive for the stateless community to voluntarily undergo COVID-19 antigen screening by the Semporna District Health Office. Simultaneously helping increase the resilience of the community and decreasing the number of COVID-19 cases on the island.
The stateless on Omadal were struggling to find sources of food during the MCO. Restricted movement left them unable to sell or buy at markets, and had to fend for themselves with what they could catch. Food baskets were delivered to 150 stateless households over the span of a month.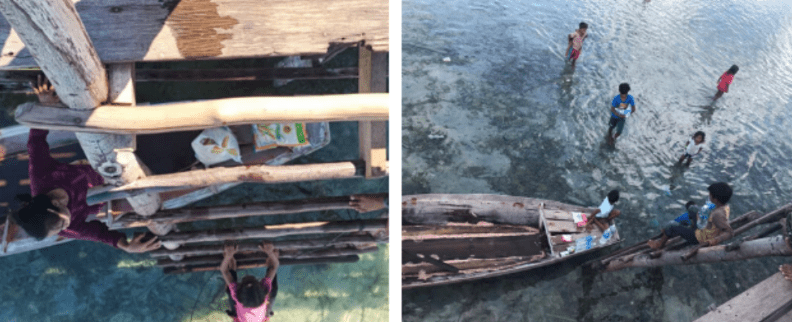 From the period of October-December 2021, the CESF funded the core of Iskul's operation which is the monthly allowance of our fieldteam. With that, our four days of literacy and numeracy classes as well as one day of art and theatre classes happened without interruption.
Beginning October 2021, we restarted our face-to-face classes. Classes start with students brushing their teeth in Iskul. Followed by either a story-telling session or a self-reading session in the morning. Then, students will go into their classes. After that, students will have their meals in Iskul before going home.
To achieve our secondary goal of raising awareness on Covid-19, our students became health ambassadors and trained their family members on hygiene practices in March 2022. It was a 2 day program from 14-15 March 2022. On the first day, we briefed and trained our students about the objective, importance and how-to of the program. Our teacher explained and demo-ed the use of each hygiene item: hand soap, toothbrush and toothpaste, shampoo and laundry soap. Then we distributed tasks to students for the workshop with their families the next day.
On the second day, around 50 people from 24 families came for the workshop. Our students presented the importance of maintaining hygiene to combat Covid-19 to the community/their families. Then they explained the use of each hygiene item that is to be given. It was followed by a question and answer session with the community members. After that, each student taught their own family members how to use the hygiene items.
Another initiative we are proud of is an interactive production that focuses on why Covid-19 is dangerous and how we can protect ourselves and our community from it?
The title of the production is "Omadal fights Corona". It depicts the life of Rendy and his friends in Omadal, how their lives were affected by Covid-19 and how they plan to solve it. The story was told in the local Bajau language. Ten students were involved in this production. They first performed to the rest of 23 students on 30th of November. On the 15th of December they also performed to Iskul's visitors. Finally on 18th of January, they performed it for the first time to the community during Iskul's Full Moon Stage (Pentas Bulan Paluwak). Since 2022, Iskul has hosted a monthly Full Moon Stage, on every full moon. It is the brightest night of the month when the tide is lowest and the stateless community gathers under the moonlight for games and other activities. We use this space to share information with the community in creative ways, such as performances and videos. This activity was co-funded with UNDP's Small Grant's Programme's under the focal area of Indigenous People and Fishing Community.
In September 2021, we had communication with the District Health Office and was informed of their possible visit to Omadal for Covid-19 vaccination. Hence, we had an information session with our students' parents on 21 September 2021.
About 19 of our students' parents attended the information session regarding taking the vaccine. Iskul Team presented a video regarding the importance of being vaccinated. We also clarified the appropriate procedures when taking the vaccine. The community shared about the common misconceptions they heard about after the vaccination such as not being able to eat fish, shower or do heavy work for 3 days. We rebutted those misconceptions. Furthermore, we spoke about the privileges granted to those who are vaccinated as they will be given a vaccine card that makes affairs in Semporna town easier and more convenient.
In early March 2022, when we received information that the health officers were coming to Omadal to vaccinate children from 5-12 years old, we held a meeting with our students' parents. We managed to convince some of them to allow their children to take the vaccine. On the vaccination day, 18 of Iskul students came early to wait for vaccination. However, they waited for two hours before the health officer arrived. And when they arrived with the police, who escorted the vaccines, many parents panicked and came to Iskul to pick up their children. Sadly, no children were vaccinated on that day.
Iskul conducted a 2 weeks introductory video-making workshop from 4-17 March to prepare 5 stateless youth and 5 Malaysian youth to create videos related to Covid-19. The youth decided to create two videos entitled
The videos were played for the community during our Full Moon Stage. This activity was co-funded with UNDP's Small Grant's Programme's under the focal area of Indigenous People and Fishing Community.
On 24th of September, the health officers arrived in Omadal with one dose-vaccine CanSino for adults and Pfizers for adolescents (12 years to 17).From our end, 6 stateless youth members took the vaccine (3 assistant teachers, 2 cooks and 1 graduate student). It was reported that about 400 people were vaccinated in Omadal that day. However, not all are stateless nor from Omadal. 
As a whole, during the period of Covid-19, the impact that we had is as follows:
Our students could continue their classes. Their study was not disrupted when our fund ended in September. While Iskul were applying for the core grant, CESF was critical in helping us to continue to provide basic literacy to our stateless students.
Our students understand the danger of Covid-19 and its prevention method through the production of wayang kulit "Omadal fights Corona" which was in their mother tongue. They also performed it to the wider community in Omadal, hence bringing the awareness to the community at large.
Our students become more confident when they get to train their family members on the basic hygiene routines. Their family were also proud to learn it from their young children. And they also benefited from the hygiene kits provided.
At least 6 stateless youth took the Covid-19 vaccination as part of Iskul's campaign.
Some challenges did arise from the student's ambassador activity. Firstly, the issue of clean water was quite critical. Most of the hygiene items require a source of clean water to be used but clean water sources in the community remain limited. Secondly, Iskul's space was not conducive for the workshop as the number of participants from the Bajau Laut community exceeded the premise's capacity. This caused some participants to sit outside the school during the workshop. Besides that, Iskul also found that most of the hygiene items are actually difficult to find in Omadal Island because they are expensive on Omadal island.
It is important to us to build on these project for the future. There are so many needs in the stateless community. Our vision is to build young leaders amongst the stateless and Malaysian communities in Omadal. We hope to arm them with literacy,critical thinking, leadership, organising skills as well as technical skills to tell their own stories to the world. Hence, we would like to sharpen their critical thinking skills with more knowledge about their own statelessness.