In 2018, Iskul had the opportunity to bring on-board a full-time Field Coordinator, many thanks to the generous donors who have supported our #50forIskul fundraising campaign in the previous year. The Field Coordinator is expected to guide our Mastal Arikik, evaluate the teaching and learning experience, as well as to be entrusted as the guardian of Pondok Iskul.

We managed to get in touch with Aida, who was on board from mid-February 2018 to mid-January 2019. Due to local political conflict, Iskul was forced to let her go and fortunately, she is now serving in The Fire and Rescue Department of Malaysia.

The following is her sharing in Bahasa Malaysia, extracted from a brief conversation:
Apakah 3 perkara yang Aida belajar dari Iskul?
Pertama, saya dapat mempelajari dan memahami tanggungjawab dan tugas saya sebagai seorang penyelaras Iskul. Kedua, saya juga berpeluang untuk merancang pelbagai aktiviti yang menarik bersama rakan penyelaras dan Mastal Arikik. Akhir sekali, saya telah belajar menyelesaikan masalah-masalah dalam kelas, antara pelajar dan lain-lain tugasan yang diamanahkan. Pengalaman ini menjadikan saya lebih bijak dalam menguruskan tugasan yang diamanahkan bagi sesuatu pekerjaan.

Apakah 3 cabaran Aida sebagai Penyelaras Iskul?
Saya berpendapat yang utama, segelintir konflik yang wujud berkaitan dengan permasalahan peribadi atau dibawa oleh individu dan bersifat emosional, dan tidak mudah untuk didekati bagi mendapatkan penyelesaian jelas. Ketidaksefahaman dan kecaman orang kampung kerana saya menolong komuniti tanpa kewarganegaraan menyebabkan banyak tekanan kepada saya. Selain itu, saya berasa saya masih perlu membaiki pendekatan komunikasi saya.

Bagaimana Iskul telah membantu Aida bertambah menjadi lebih baik?
Menjawat peranan sebagai seorang penyelaras, nilai kepimpinan dapat dipupuk dalam diri saya. Selain itu, saya menjadi matang untuk berfikir dan mempunyai lebih banyak kesabaran dari pengalaman baik dan buruk yang saya alami semasa di Iskul. Tanggungjawab saya sebagai seorang penyelaras di Iskul telah memupuk nila berdikari dalam diri saya dan menjadikan saya seorang pemimpin yang berwibawa dan dihormati oleh pelajar-pelajar Iskul sehinggalah sekarang.

Apakah yang Aida paling rindu di Iskul?
Sepanjang perkhidmatan saya bersama Iskul, hubungan saya dengan pelajar-pelajar Iskul telah bertambah erat, kukuh dan bersatu. Kami akan saling menghormati.

Apakah pengalaman terindah Aida di Iskul?
Pengalaman terindah adalah masa Hari Sukaneka dan Majlis Anugerah Cemerlang akhir tahun 2018. Semasa aktiviti dijalankan, sebarang perselisihan faham dapat dielakkan dan suasana yang harmoni dapat dirasai. Saya juga dapat berkomunikasi dengan baik dengan peserta-peserta aktiviti.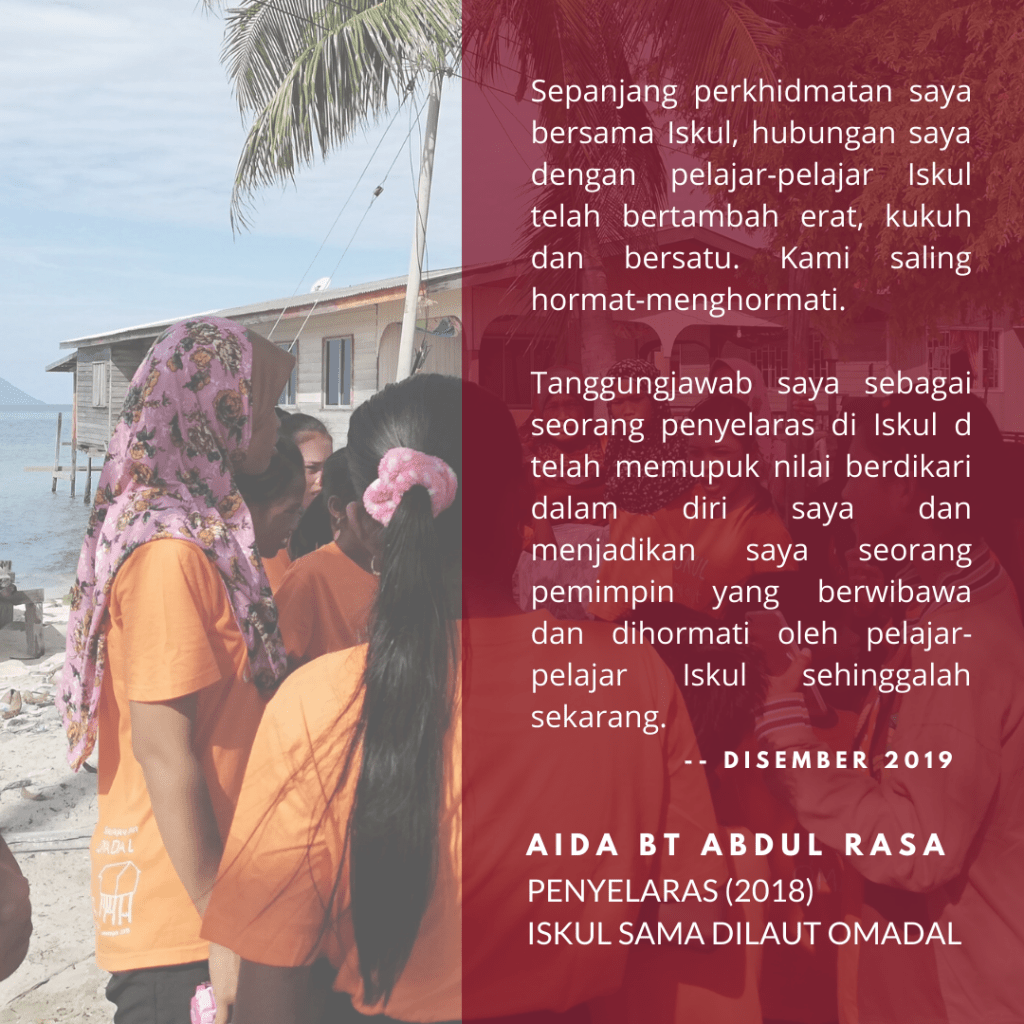 Iskul would like to record our gratitude for her excellent service with Iskul and we wish her the very best in her endeavours. The students missed her around and Iskul's door will always be open to welcome her back to contribute when she has the time to spare.