The management team made the second visit for the year represented by Ee Chia. The visit while it was in conjunction with attendance to the invitation to the UNHCR Roundtable on Bajau Laut in Sabah in Sandakan. The brief 5-day visit from 5 – 9 August was also critical to follow-up on permissions from District Officer and Ketua Kampung to build Pondok Iskul on Omadal Island.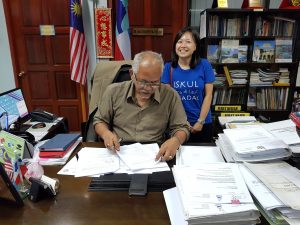 Dr Hj Chacho Bullah, Semporna District Officer has written a support letter for the construction of Pondok Iskul and recognising Iskul as a citizen initiative to provide basic education to the stateless Bajau Laut community residing at Omadal Island. The recognition provided us with the confidence to continue the project and injected a boost of faith that this initiative is a welcomed one. It was an important milestone marking the 2nd anniversary of Iskul.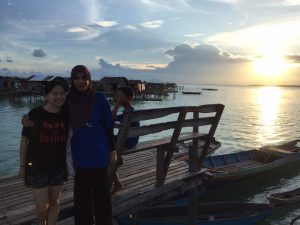 Besides the meeting with the District Officer, Ee Chia also took time to provide a brief induction with Iskul first Field Coordinator – Roza, observed classes and conducted meeting with Headmistress, Mastal Arikik and students to find out challenges they still faces.
During this visit, it was also decided that a monthly allowance of RM 100 be provided to Headmistress, Pn Roziah for her management of Iskul operation base as well as a decision to increase the food budget from RM 1 per meal to RM 2 per meal for Iskul students.