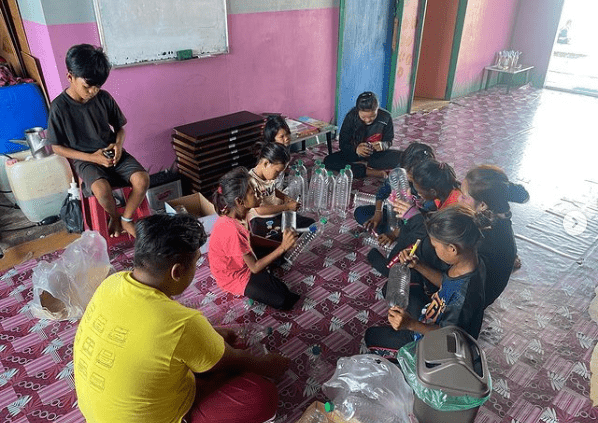 Iskul collaborates with Engineers Without Borders Malaysia (EWBM) to improve the water access to all stateless households in Omadal under a grant by the UNDP SGP. This project enhances the current Iskul YHSG 2020's commitment to improve water access to 30 stateless households in Omadal. Our model is one that includes collaborative effort with the community. We provide the recipients 100L water tanks and they will strengthen the platform of their houses before the water tanks are given. The improved version includes a water filtration system that was absent in the previous version. The system will filter and clean the rain water before it gets into the water tank.
The engineering team was supposed to travel to Semporna to build the water filtration system for all the households. However, due to the covid-19 travel restrictions, they couldn't come to Omadal. As a result, we decided to involve our students to prepare the filtration system. They learnt to make flush bottles and filter pipes. To do that, they had to cut the bottle, measure the pipes and connect them with glue. These skills will enable them to troubleshoot should any problem arise from the filtration system. Hence, the community themselves can fix any problem in the future. Instead of being shy with low self-esteem as are evident with children in the community, our students are empowered to learn new skills and to help their community to make and fix the water filtration system. This experience also further enhances their confidence.
Check out our social media for a look at how they did all this.