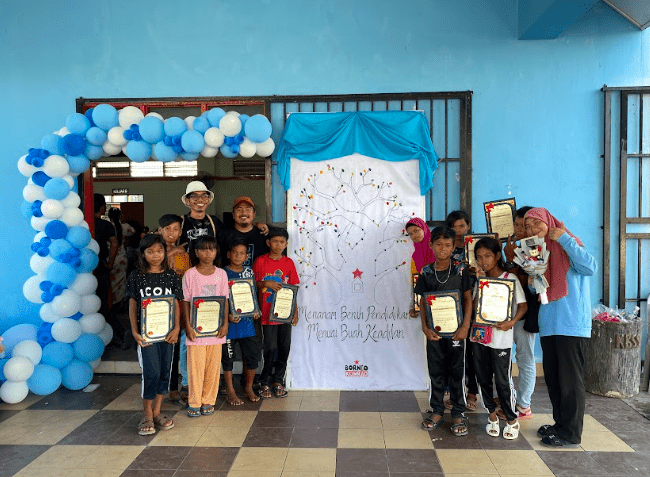 In June 2022, 10 of our students performed in the graduation ceremony of Sekolah Alternatif, Borneo Komrad in Semporna. It was the first time the students left their home on water and stayed overnight on land. We have heard stories of land-sickness for those who have been living on the sea. We did not realise that it would happen to our students. We were unprepared and did not bring any anti-nausea medications.
The students stayed a night in Semporna before the performance to rehearse. On the second day, a few of them started to feel land-sick. Yet it didn't stop the children from performing the wayang kulit "Omadal fights Corona" for the graduation ceremony of our friends. Some cried during the performance. A few vomited at the back stage right after the show.
We cannot be more proud of the children's spirit and sense of responsibility. They persevered and performed despite feeling unwell. They put on a brave front to perform in front of a full hall.
They are no longer the *shy and timid children they were once known as. They are no longer the children that begs for food and money from the tourists. They are no longer the children known to be sniffing glue and idling during the day.
These children spend their days in Iskul learning basic literacy skills. They learn to speak Bahasa Malaysia and basic Mathematic. They learned performing arts, dissecting films, drawing and painting and origami. They performed in Iskul's monthly Full Moon Stage (Pentas Pulawak). They learn to play some musical instruments and board games. They started to learn about the basics of science as well as hydroponic gardening.
They are no longer hungry and deprived of nutrition. They get two meals from Iskul for five days a week. Their body receives the nutrition they need to grow and to learn as a human being with dignity. For that, we are grateful for the Yayasan Hasanah grant.
The students are Panadiah, Mustasli, Ratuan, Rendy, Nur Iman, Alini, Majali, Bayu, Jima dan Amaidah.