Year 1 has been a colourful year for Iskul. Here are some of the highlights:
Our Mastal Arikik divided the school to two classes: beginner and intermediate. They created school anthems and the students sing the anthem at the beginning of every class. Some students now can count from one to hundred, do simple addition and minus operation, read and write from A to Z. So far, they had a number of tests. The average class size is around 21-24 students. They are given homework after every class. And they also have 'gotong-royong' after their Sunday class to keep the beach clean. The Mastal Arikik also conducted extra classes during their school holiday in December 2015. (Aug,2015 – Sept 2016)
One of our Mastal Arikik was nominated as Unicef Young Changemaker 2015 that has garnered much attention to Iskul. As a result, the Trustee created an InfoKit for media, potential donors and Volunteer Tutors who wish to contribute to Iskul.
A video called Mastal Arikik were produced by WAPO and presented during a meeting with Datuk Masidi Manjun – Ministry of Tourism, Culture and Environment Sabah during the meeting he was surprised and proud of the Iskul initiative and the local kids for teaching the Bajau Laut friends. (Dec 2015)
For the first year, Iskul spent RM500 monthly to cover the four Mastal Arikik allowance (RM50) and the students food after every class. We have one monthly donor. We also received donations in form of workbooks, bags and toys.
The Trustee has ten online Board meetings and made four visits to Iskul from Aug 2015 – July 2016. We also welcomed a new member into the Board of Trustees, Shafiyyah on July 2016.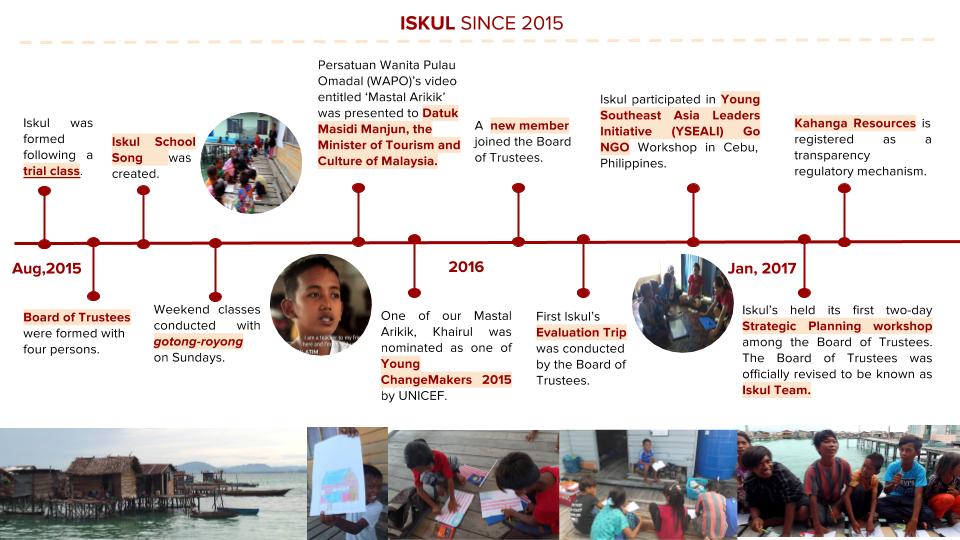 The Trustee made an assessment trip to Omadal on September 2017, and identified four gaps to be addressed:

lack of proper classrooms and it has affected our students attention during class
our MA has yet to master the teaching skill, they would need more trainings to teach better
lack of monitoring and supporting mechanism on the ground for our Headmistress, MA and students
lack of self-esteem and high-consciousness amongst students.
Iskul celebrated its one year anniversary and Awards Day on 20 September 2017 to celebrate the time and efforts our students, Mastal Arikik, Headmistress have invested in Iskul! We had invited our student's parents to witness the historical moment when their child walks up to the stage to receive a certificate of enrollment from the Head of Omadal Hujung village.
To improve our MA's teaching skills, our friend Cikgu Wai Yan guided them on how to prepare a Teaching Plan before class on 24 September 2016.
After one year, 71% of our students can write their own names while 57% can write A-Z based one a test result conducted in September 2016
On November 2016, Hui Ling attended YSEALI GO NGO on behalf of Iskul to seize the opportunity to introduce Iskul and its journey thus far to other participants while very much looking forward to receive their collective ideas on how to better improve Iskul because there is no one fits all solution. Indeed, Hui Ling returns with abundance of reflections and eager to bring the knowledge she obtained from speakers during the workshop which she proposed would be suitable for Iskul to consider or adapt.
The Board of Trustee (BoT) had a two-day Strategic Planning Meeting online in January 2017 to reevaluate, restructure and plan Iskul's milestones for the next 12 months. One major change is the restructuring of the BoT as each member assessed our circumstances and commitments to Iskul. For now the BoT cease to exist and we are absorbed as the Iskul Management Team. For the purpose to increase accountability, transparency and legality, we have also registered an enterprise named Kahanga Enterprise where official account can be registered and bank statements can be audited in the future.